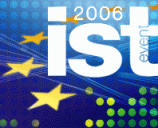 IST 2006 includes a high-level conference conference, an Exhibition of cutting edge research results from across Europe and a programme of networking sessions and workshops, with the exhibition and networking programmes defined by participants via this website.
Three strands, but one overriding aim: to help achieving Europe's innovative potential in developing and rolling out Information and Communication Technologies (ICTs).
The Conference Programme opens with a first day devoted to high-level policy discussions on what governments and public policy can do to help ICT contribute to an innovative Europe, with Days Two and Three are devoted to the Seventh Framework Programme and other topics surrounding European research and innovation.
The Exhibition and Networking Programmes, however, are being defined using a «bottom-up» approach, based on proposals by companies, research institutions and other organisations from across Europe via this website. While the successful Exhibition proposals are now live, the Networking Sessions and Workshop Call for Proposals has just closed, allowing proposers to take the results of the Exhibition Call into account.
Access it online!