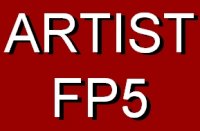 The IST 34820 ARTIST Accompanying Measure on Advanced Real-Time Systems started April 1st, 2001 and ended March 31st 2006. Initially planned for 3 years, it was extended by 1 year to allow further work on International Collaboration activities.
It gathered together 30 leading European research institutions, as well as many top researchers in the area. The aim of Artist FP5 has been to coordinate the R&D effort in the area, to:

Improve awareness of academics and industry, especially about existing innovative results and technologies, standards and regulations

Define innovative and relevant work directions, identify obstacles to scientific and technological progress and propose adequate strategies for circumventing them.
The Initiative focused on three relevant work directions, called Actions:

Hard Real-Time Systems

Component based Design and Development

Adaptive Real-Time Systems for QoS Management

Execution Platforms
The work directions included:

Establishing a roadmap mapping future directions in advanced real-time systems

Proposing curricula for Education and Training in advanced real-time systems

Dissemination and International Collaboration

Creating strong two-way ties with industry
Achieving these aims required mobilization and tight collaboration between research teams, system developers and technology providers.
To ensure success; the consortium was fortunate to get the best European teams involved, by offering an attractive and appropriate framework for collaboration which improves in many respects the current situation concerning the level of funding, project evaluation and monitoring, flexibility in the use of resources in particular, by simplification of administrative procedures.
The Artist FP5 Final Report is available online
here
.