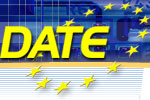 The 10th DATE conference and exhibition is the main European event bringing together designers and design automation users, researchers and vendors, as well as specialists in the hardware and software design, test and manufacturing of electronic circuits and systems. It puts strong emphasis on both ICs/SoCs, reconfigurable hardware and embedded systems, including embedded software.
The five-day event consists of a conference with plenary invited papers, regular papers, panels, hot-topic sessions, tutorials and workshops, two special focus days and a track for executives. The scientific conference is complemented by a commercial exhibition showing the state-of-the-art in design and test tools, methodologies, IP and design services, reconfigurable and other hardware platforms, embedded software, and (industrial) design experiences from different application domains, e.g. automotive, wireless, telecom and multimedia applications. The organisation of user group meetings, fringe meetings, a university booth, a PhD forum, vendor presentations and social events offers a wide variety of extra opportunities to meet and exchange information on relevant issues for the design and test community.
TECHNICAL CONFERENCE
Keynotes, scientific papers, interactive presentations, design records, discussion panels, hot-topics, tutorials and workshops. This year there are two dedicated days of specially focused conference sessions in the following areas of design applications: Ubiquitous Computing and Communications Space and Aeronautics. A full list of topics is available online.
EXHIBITION
April 17-19, 2007 Over 100 companies showing the best in design, verification and test tools and platforms for embedded systems and electronic devices, IP cores and design services.
See it online!
See also the
Workshop Organised by Artist!