Venue

Travel

Accomodation

Tourist Information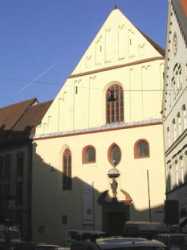 Venue
The workshop takes place in the city center of Bamberg:
Dominikanerbau
Dominikanerstraße 2a
Google Maps:

Map 1: Workshop Venue

Map 2: Bamberg City - Map

Map 3: Bamberg Surroundings and City - Map
Note that the bridge "Löwenbrücke" is under re-construction and cannot be passed.

Bahnhof = Train Station

ZOB = Zentraler Omnibusbahnhof = Central Bus Station
If you have any further questions or comments, please send an email to
Gaby Bauer
.
Travel
How to reach Bamberg?
Bamberg can be easily reached by train. The nearest airports are in Nürnberg (Nuremberg), Frankfurt/Main, Erfurt, and München (Munich). Check location of Bamberg on a map of Germany.
If you have any further questions or comments, please send an email to
Gaby Bauer
.
Accomodation
See below for some prenoted hotels with online information. All hotels are located within walking distance (less than 5 minutes) from the workshop venue and the city center of Bamberg. However, some of them have only limited information in English.
Registration and hotel booking forms will be made available in due course from this web page. If you need any further information or help with hotel bookings do not hesitate to send an
email
.
You can also
search for a hotel
.
If you have any further questions or comments, please send an email to
Gaby Bauer
.
Tourist Information
What and Where is Bamberg?
Bamberg, located in the heart of Franconia in the north eastern part of Bavaria, has received a lot of honors and aliases such as dream city of the Germans, Franconian Rome, world heritage, or beer city.
Bamberg is a city with a unique atmosphere that preserved its original character. 1000 years of history combined in an urban-planning richness of distinction throughout Europe. Not without reason the entire old town of Bamberg was given the title of a world cultural heritage by the UNESCO.
Bamberg Old Town - UNESCO World Heritage
Spread over seven hills and situated at the heart of the Franconian cultural landscape is Bamberg, a former centre of episcopal and imperial power. The town's position of importance can be traced back to its founder and patron Emperor Heinrich II (died 1024), who made Bamberg his power base.
Alongside such architectural gems as the cathedral, old town hall, New Residence and St. Michael's monastery, it is the River Regnitz with its many watercourses and bridges that shapes the face of the town and emphasizes the romantic atmosphere that the visitor encounters at every turn. Bamberg has essentially developed into a baroque town and yet has still managed to preserve its medieval structures. Virtually unscathed by war, Bamberg's old town forms the largest coherent ensemble of preserved buildings in Europe. 1000 years of history have made their mark on Bamberg and have left behind treasures of inestimable value, including examples of German and European architectural history from many different epochs.
The Franconian Rome, as Bamberg is also called, offers a lot of sights and activities for visitors. See the cathedral with the famous sculpture "Bamberger Reiter", the town hall right in the middle of the river Regnitz, rich baroque buildings and other highlights which are all within walking distance from town centre. And don't omit to stop for a beer in one of the traditional breweries.
Beer City Bamberg
Bamberg is famous for the world's highest density of breweries. The brewing tradition in Bamberg dates back almost 900 proud years, if monasteries are taken as the first breweries. As early as in the 12th century, beer from Bamberg was exported to places far away.
In Bavaria, beer is considered as the fifth element along with earth, water, air and fire. And indeed, beer has an outstanding importance in Bamberg. Beginning in May or, depending on the weather even at the end of April, people in Bamberg head for their favorite "Bierkeller", which is the local variation of the famous beer gardens. There, they enjoy the first freshly tapped beer barrels of the summer. The "Bierkeller", literally translated a beer cellar, was the place where breweries stored their valuable products at a stable low temperature. On top of the cellars that were dug in the soft sandstone, it was common to have an inn. This old tradition has been kept alive until today and Bamberg's citizens and their guests enjoy the fresh beer and the scenic settings of the "Bierkeller" which often reward the walk up from the old town with a great view of Bamberg.
Today, ten breweries are still to be found in the city. Each of them produces an average of three sorts of beer. As a consequence, visitors are spoilt for choice. The most famous one is the Bamberg smoky beer that should be tasted in any case. If you find the first pint is odd, don't worry, after the fourth you'll love it!
More Information about Bamberg:

Bamberg Info - Official Website of the city of Bamberg

Guided Tour

Webcam
If you have any further questions or comments, please send an email to
Gaby Bauer
.