Company
or
Institution

University of Michigan
Contact

Home page:
http://www.eecs.umich.edu/~kgshin/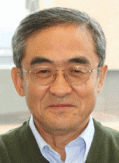 Research Interests

Wired and wireless networking, including new-generation Internet protocols, sensor networks, wireless LANs, and cognitive radio networks.

Computation and network security, including lightweight systems and enterprise systems & networks.

System software such as low-power embedded real-time OS, middleware, file and storage systems, and Internet services and servers.

Integration of real-time embedded application and system SW for information appliances, telcomm devices, homes, automobiles, and factories