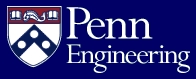 The University of Pennsylvania, Department of Electrical and Systems Engineering, seeks outstanding individuals for tenure-track or tenured faculty positions in the Department of Electrical and Systems Engineering to start July 1, 2007.
Applicants must have a Ph.D. in Engineering or equivalent. Suitable candidates in all EE and Systems research fields will be considered, ranging from physical devices and systems through computer engineering, communications, and control. We are particularly seeking applications in the general area of embedded systems that complement existing strengths in embedded control systems, embedded software, real-time and hybrid systems.
Candidates are encouraged to collaborate with faculty in appropriate related areas such as bioengineering, computer science, materials science, or mechanical engineering. The University seeks individuals with exceptional promise for, or proven record of, research achievement who will excel in teaching undergraduate and graduate courses and take a position of international leadership in defining their field of study.
Interested persons should submit an application by completing the form located on the Faculty Recruitment Web site at
https://www.seas.upenn.edu/ese/fsrch/apply.html
including curriculum vitae, and the names of at least four references.
The University of Pennsylvania is an Equal Opportunity Employer. Minorities/Females/Individuals with Disabilities/Veterans are encouraged to apply.