Role within the ArtistDesign European Network of Excellence

Participates in
Hardware Platforms and MPSoC Design

Collaboration with IMEC vzw.and contribution to the Hardware Platforms and MPSoC cluster and the Software Synthesis, Code Generation and Timing Analysis cluster.
Company
or
Institution

Norwegian University of Science and Technology (NTNU)
Contact

Home page:
http://www.iet.ntnu.no/groups/krets/People/kjeldsberg.html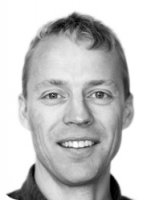 Research interests
Per Gunnar Kjeldsberg received his Sivilingeniør degree (MSc) in electrical engineering in 1992 from the Norwegian Institute of Technology. In 2001 he received the degree of Doktor ingeniør (PhD) from the same institution (now Norwegian University of Science and Technology, NTNU). During his doctoral studies, he focused on storage requirement estimation and optimization for data intensive applications. The research was performed in close cooperation with IMEC, in Leuven, Belgium, where he was a visiting researcher for nine months in all. His research interests are embedded hw/sw systems, with a focus on multi-media and digital signal processing applications. Between October 2005 and June 2006, Kjeldsberg was a visiting researcher at University of California, Irvine, Center for Embedded Computer Systems.
Role in leading conferences/journals/etc in the area
Kjeldsberg has (co-)authored a large number of conference and journal papers, and has been coauthor of a book in his field of interest. He is frequently used as reviewer for several international journals and conferences.
Notable past projects
CUBAN project
Co-optimized Ubiqutious Broadband Access Networks with focus on cross-layer optimized implementation of DSP algorithms.
CoDeVer/Embla
Codesign, verification, and languages for embedded systems in close cooperation with industry partners
Further Information
Between 1992 and 1996 Kjeldsberg worked as a design engineer at Eidsvoll Electronics, designing communication control equipment based on embedded hw/sw solutions. Currently he is an Associate Professor at the Department of Electronics and Telecommunications, NTNU. Here he teaches several extensive undergraduate and graduate courses, and supervises a number of students at master and PhD level. Kjeldsberg is and has been a member of the board of directors both at the Faculty and in private companies.